Denton Baptist Association has been given a Block Party Trailer through donations to the Mary Hill Davis offering. The trailer is available to all DBA member churches for evangelistic events.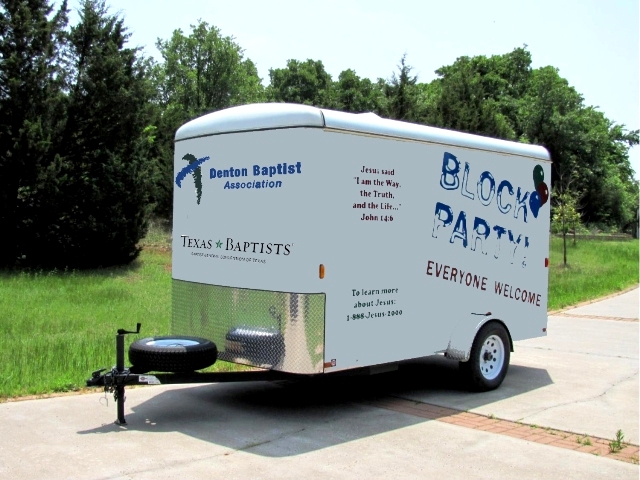 Includes:
Popcorn Machine
3′ x 10′ Banner
Snow Cone Machine
Generator
Pop-up Tents
Trailer Hitch
Sound System
Dolly
Carnival and Tabletop Games
Small Shop Vac
Table and Chairs
Disinfectant and Sprayer for
Popcorn Machine
1 Large Blower for Bounce
House
2 Gas Containers
Large Blower for Bounce House
Hydraulic Bottle Jack
Charcoal Grill
3 Keys
10lbs of Charcoal
DBA Block Party Trailer Application
The BPT is available to all DBA-member churches. Please fill out the following information. There is a required $50 Usage Fee to rent the trailer which can be paid through Paypal (included with this form) or by check. Also, please provide your church's Liability Insurance to DBA. Email insurance to rochelle@dentonbaptist.org.
Payment
In order to pay for the Block Party Trailer click the button below and enter a $50 deposit.